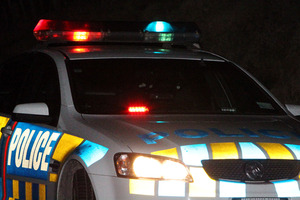 A Waikato man will spend his 18th birthday in court today following a lengthy police pursuit early this morning.
The man failed to stop for a routine vehicle check at Huntly's Harris St about 1.45am and accelerated away, police allege.
He drove along Hetherington Rd towards Waingaro while a passenger allegedly threw items from the car, Senior Sergeant Kevin Anderson said.
Road spikes were deployed by the Onewhero Golf Course but the car did not stop until several kilometres later.
"Both males were arrested and charged with the theft of the car and driving offences. We understand the man driving is turning 18 today and as such will be appearing in the Hamilton District Court as an adult offender," Mr Anderson said.
- APNZ