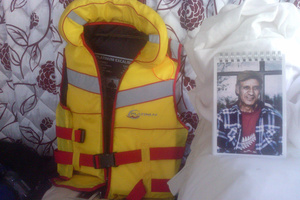 The family of a 72-year-old Martinborough man who went missing at sea is appealing to the public for sightings of his lifejacket to help them piece together the puzzle of his last moments.
Tupara Kiel went missing in choppy seas near Te Awaiti on January 10, after leaving Sandy Bay about 11am in an inflatable boat.
His vehicle and trailer were found at 7.15pm that day. An extensive search was carried out, but his body has not been found.
Relatives of Mr Kiel have been camped near the spot since he disappeared and continue to search the shoreline.
Daughter and son-in-law Frances and Ray Thompson said Mr Kiel and his wife bought a new lifejacket days before he went missing.
It is a large, adult-sized, bright yellow Platinum Excalibur lifejacket.
"We know he had his lifejacket on him, but we're not sure it he was wearing it or not," Mr Thompson said.
The family are appealing for any sightings of the jacket to provide clues to what may have happened to Mr Kiel.
"If someone sees a new lifejacket with no name on it ... they'll just think somebody's lost it on the beach."
Mr Thompson said apparently anything lost close to the shore would travel north, but anything further out would go south around Cape Palliser.
Mr Thompson also wanted to thank locals who had supported the family with extensive shore searches and in other ways.
"They've been a blessing for us," he said.
Mrs Thompson said the family would stay camped on site for another few weeks a least.
For more articles from this region, go to Wairarapa Times-Age