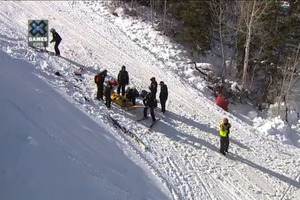 Injured Kiwi freeskier Rose Battersby is currently undergoing surgery on her broken spine after her heavy crash at the Winter X Games.
The 19-year-old from Taupo suffered a lumbar spine fracture in the crash which occurred during the warm up for the slopestyle in Aspen.
A family member says Battersby has been in surgery for more than three hours.
They have been in contact with her via Facebook since the crash.
Footage broadcast on ESPN showed Battersby sliding on her back down a slope, her skis tumbling beside her, before crashing through a fence and stopping.
Alex Kerr, of Snow Sports NZ, said Battersby was assessed at Aspen Valley Medical and was said to be in a stable condition with a lumbar spine fracture and able to move and "feel all extremities". She was also able to speak to rescuers. A second skier called Battersby was also involved in a crash but they are unrelated.
"Rose is being transferred to Denver for further assessment and treatment," Ms Kerr said, adding that specialists would determine the best course of treatment.
On her website, Battersby said she was chasing her dream of becoming No 1 in the world for free skiing.
She finished ninth in the women's Slopestyle competition last year, the same one she was injured in yesterday.
- additional reporting Andrew Koubaridis