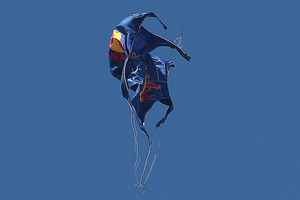 Kiwi stuntman Chuck Berry jumped from a helicopter at the first NZ International Air Show yesterday, using a marquee as a parachute.
Moments later the marquee "failed" and Berry pitched into a freefall before deploying his back-up parachute.
"It was all part of my plan," Berry said last night. "The first parachute I used was actually a tent. I developed it a wee while ago when I started doing parachute jumps. My plan was to jump with that, release it, then use my normal skydiving parachute."
A confused crowd saw Berry land just in time for a gust of wind to nudge him over the fence. "He landed all right and looked like a bit of a hero," marketing director Tina Moore said.
"That's the whole idea when you're doing an air show," Berry joked.
More than 5000 people attended yesterday. Spokeswoman Fiona Fenwick said more spectators were expected today and tomorrow.
The grounds of the North Shore Aero Club had a capacity of about 22,000.
Fears of traffic chaos proved unfounded. "We're really pleased that the public used the public transport that was available," said the transport agency's Steve Mutton.
Berry is back up today, along with Swiss "Jetman" Yves Rossy, vintage and model aircraft displays, and aerobatic performers including 28-year-old blonde bombshell Melissa Pemberton, who flies with her husband Rex.
The day ends with competitive air racing featuring quirky American skydiving and "wingsuit" stunt team the Squirrels. John Weekes