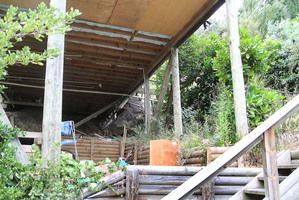 A 40-tonne boulder "the size of a van" has rolled down a hill and smashed into a Christchurch home.
The abandoned red-zoned property at Finnarsby Place, in the seaside suburb of Sumner, has been cordoned off since the rock came crashing into it last night, and lodged under the decking.
Geotechnical engineers have been inspecting the Port Hills property today and the Christchurch City Council is awaiting to hear the cause of the rockfall.
Geotechnical engineer Camilla Gibbons estimated the boulder fell about 180m.
She said it must have been going "at a fair speed'' because it had smashed through mature trees and vegetation.
Although it is not known exactly how it became dislodged, she suspected it was the result of soil drying in recent hot weather.
Building operations manager Ethan Stetson says the incident highlights the importance of council-issued section 124 notices, which prohibits entry because of risk to life.
"We've been advised that these events are to be expected, not only due to earthquakes, but natural weather processes can lead to these events," Mr Stetson said.
"Rain and also the drying up of the rock can cause this."
Canterbury Earthquake Recovery Minister Gerry Brownlee says the incident is a graphic illustration of the ongoing unpredictability of the damaged land.
"This very vividly vindicates the time and effort spent establishing the risk of rock roll on the Port Hills," Mr Brownlee said.
"This boulder is the size of a van, so clearly it posed a risk to life and limb had that home been occupied.
"All areas of Port Hills land zoned red due to rock roll are as dangerous and this cannot be forgotten."
The decisions around the zoning of some properties in the Port Hills are currently under review, and the results of that will be announced in due course.
- APNZ