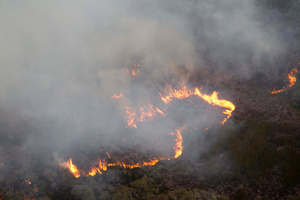 New fires are burning on Great Barrier Island as firefighters work to strengthen containment lines with controlled vegetation burnoffs.
The burnoffs are within the containment area where more than 100ha of bush has already been destroyed.
Auckland Council said the new fires were a result of changes in heat and humidity this afternoon and were working to strengthen containment lines in case the fires flared up at the weekend.
There are still 45 volunteer rural firefighters positioned on the border of the containment area and a helicopter is on standby.
The council said there were no properties currently under threat.
Auckland Council's rural fire team is being helped by the Department of Conservation to work in shifts stopping any breakouts and dampening hotspots.
The New Zealand Defence Force is also assisting with transporting supplies to the ground crews on the island.
The Navy will this evening join the firefighting efforts with the patrol vessel HMNZS Otago to deliver five tonnes of equipment and supplies to the island.
Otago, which has been at sea for training exercises, has been "rapidly redeployed'' to help with the efforts on Great Barrier following a request from the Department of Conservation.
It will pick up fire-retardant chemicals as well as food and water from the Devonport Naval Base and deliver them to Whangaparapara Harbour tomorrow morning.
- APNZ