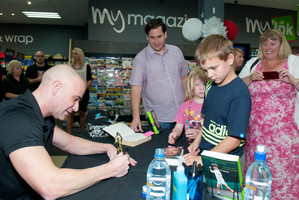 Tennis legend Andre Agassi greeted fans in Christchurch who turned out to meet him at a special book signing event.
Agassi, 42, is in the country as part of a book tour, promoting his autobiography: Open.
Dozens of fans, both young and old, queued outside the Paper Plus store at the Eastgate Mall to get their books signed.
One fan turned up with something slightly different - a copy of Agassi's book; the Russian edition.
Agassi smiled and said it was the first he had seen his autobiography in Russian.
Agassi later attended a dinner at the Addington Raceway & Events Centre.
Today he is in Auckland for a book signing at the Paper Plus store in Newmarket, from 11 to 11.45am.
Tonight he will be the keynote speaker at a gala dinner at the Langham Hotel, at 6pm.
- NZ Herald