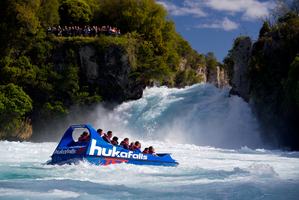 The quick actions of three Hukafalls Jet staff helped save a Wairakei man after he tumbled into the Waikato River.
Tony Swainson, 76, a well-known fisherman and fishing writer, has spent 70 years fishing around the world but says that despite spending so much time in and around water, he's never learned to swim.
So there was little time to act when Tony, whose balance has been affected by cancer treatment, lost his footing on a jetty while watching his son, Ian, and daughter-in-law Ronja swimming.
"It happened so quickly I never had time to panic.
"One minute I was standing up and the next minute I was admiring the underwater plants."
The river was running high and the current was strong and Tony was well out of his depth. He managed to grab the side of the jetty but doubts if he could have got himself out. He thinks if he had been in the water much longer he would have been washed underneath.
Ian says he and Ronja were in the water at the time and when they looked up Tony suddenly wasn't there. They ran to the jetty to find Tony hanging on for dear life. However, they couldn't pull him out because there were bolts and other obstructions in the way.
The Hukafalls Jet crew, who were cleaning their boats before putting them away for the evening, heard cries for help.
Operations manager Phil Ball, mechanic Steve Riddle and driver Mike Tindle raced to help, jettisoning keys and cellphones en route. Phil dived into the deep water fully clothed and held Tony up while the other two assisted from the jetty. Once they were able to move Tony away from the obstructions they were able to pull him out.
Phil says it's lucky he, Steve and Mike were close by and that they didn't have their tractor operating, as there was no way they would have heard Ian and Ronja's calls for help.
Ian and Ronja took Tony home to dry out, while Phil, Mike and Steve hunted for their keys and phones and then tried to explain to sceptical colleagues why Phil was soaking wet.