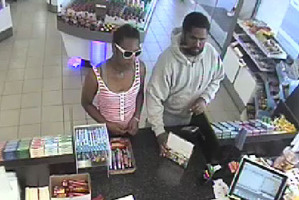 Two Auckland men have appeared in court on charges related to the theft of a donation box with $60 in it.
Secuity camera footage was released by police on Tuesday afternoon which showed two people approaching the Heretaunga St service station counter asking to buy cigarettes on January 11.
As the attendant turned around one of the pair stuffed the Riding for the Disabled charity box in his hoodie.
Graham Ruatoto, 20, and Maurice Taki, 28, appeared in Hastings District Court yesterday facing a theft charge and two shoplifting charges. The shoplifting charges relate to Auckland offences.
The pair, both from Manurewa, had travelled to Hawke's Bay a few weeks ago to find seasonal work.
Taki entered no plea to the charges and was denied bail by Judge Bridget Mackintosh. Police argued there was a risk of reoffending and he will appear again on Tuesday. Ruatoto pleaded guilty to all three charges. His defence lawyer, Matthew Phelps, suggested a sentence of one month imprisonment, saying things had gone "pear-shaped" since his move to Hawke's Bay.
However, Judge Mackintosh declined to sentence him yesterday, instead noting his pleas and remanding him in custody to appear in the Manukau District Court next week.
For more articles from this region, go to Hawkes Bay Today