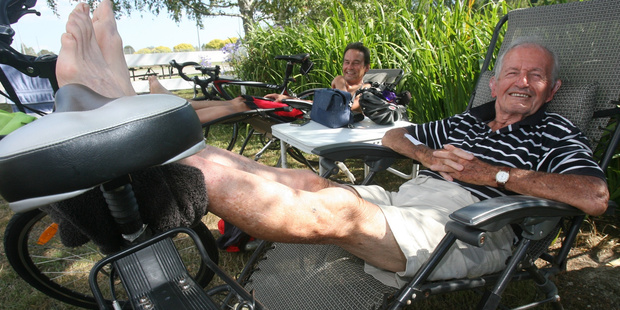 Seventy years after cycling 1300km from Hastings to Invercargill as a fresh-faced 17-year-old, Bill McGavock is endeavouring to repeat his marathon ride.
This time the 87-year-old is being accompanied by his 60-year-old son Steve.
Mr McGavock, from Havelock North, cycled through Wairarapa on Tuesday and camped at Clareville showgrounds on Tuesday night.
He had no reservations about taking on the gruelling cycle, as it was something he wanted to experience one more time.
"I did it with a friend when I was 17 and I thought I'd like to do it again before it's too late."
Mr McGavock said he was fit and healthy and up to the challenge.
The duo have already completed about 230km and both father and son said they were feeling good so far.
They expect to reach Invercargill in about three weeks.
Mr McGavock said he was never a racing cyclist or took his cycling too seriously, however had always enjoyed a good challenge.
"I want to cross it off my bucket list."
Mr McGavock said his son was a cycling enthusiast and had been to Invercargill and Cape Reinga on various excursions.
"He likes cycling, he might not get on a bike for three or four days [sometimes] but he enjoys it."
Mr McGavock said his daughter and her husband will also travel in a campervan for support during the long journey.
He was looking forward to the road ahead - but would not be getting carried away until he gets a little closer to Invercargill.
"Yes I'm excited and I'm enjoying it so far but we've a long way to go yet and we've nothing to get excited about until we get there," he said.
"When we get to Invercargill we might have two or three beers."
For more articles from this region, go to Wairarapa Times-Age