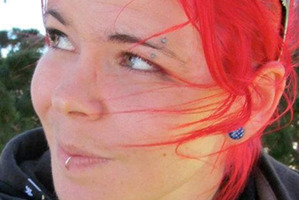 The father of a young woman who died after falling two storeys from a Wellington apartment says his daughter was taken too soon after making "an awful judgment call".
Jessica Brough, 22, died in Wellington Hospital on Tuesday morning after her life support was switched off a day earlier.
Ms Brough had been trying to get into a friend's central Wellington apartment on Bute St when she accidentally fell two storeys about 6.30am on Friday.
Police said she climbed a fire escape at the rear of the building, but slipped when she tried to climb around a pipe.
Ms Brough's father Jim said he and wife Margot had visited the site of the accident.
"She was only a couple of feet short of what she was trying to do, so that hurts.
But she shouldn't have been doing it of course - hindsight's lovely, isn't it," he said.
"She just made an awful judgment call. Our family is devastated."
Mr Brough said his daughter was a "beautiful, vivacious, intelligent, creative young woman".
She had returned to Wellington on New Year's Eve following a six-month OE in the United States and Europe, during which time she met a boyfriend and developed a passion for burlesque.
Boyfriend Errik Munk Tyler was due to arrive in Wellington from his Oakland, California home this morning, in time for Ms Brough's funeral today.
Mr Brough said his daughter had played netball, hockey and underwater hockey at Newlands College, where she won a number of academic and film-making prizes.
She was passionate about her degree in media studies and marketing, which she completed at Victoria University last year before departing on her OE.
Mr Brough said his daughter had brought her passion for burlesque back to Wellington, and had been working with a number of people to put on shows in the capital.
Another one of her passions was fire spinning, which had given her great joy as she danced along to Shapeshifter at the recent La De Da festival in Martinborough.
Mr Brough said his daughter inspired those around her.
"Her many friends who visited in hospital spoke of how she challenged them to do things they would not have done without her encouragement.
"Jess loved hugging and being hugged and was a wonderful friend.
"Jess wanted to change the world. She was courageous and used her initiative to make things happen."
Mr Brough said his daughter was sadly missed by her family and friends, but had lived her life to the fullest to her last day.
"She was taken too soon, she was a bright shining star."
In a tribute to his girlfriend on Facebook, Mr Tyler said: "You will always be the love of my life ... every adventure we ever did will go down in history ... you will always exist in my soul."
Inspector Terry van Dillen said the police investigation was complete and the death had been referred to the coroner.
"We're very comfortable that there's no third party involvement, we're very comfortable there hasn't been a suicide and we're very comfortable that it's just a tragic accident."
Mr van Dillen earlier said alcohol and drugs were not believed to be involved.
- APNZ