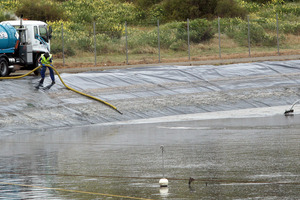 International wastewater experts Cardno BTO are in Wanganui to look at ways of reducing the smell from the city's water plant.
At a Wanganui District Council meeting last week, councillors voted unanimously to commission Cardno BTO to assess short-term solutions for the odour problem and long-term solutions for the inherent problems with the treatment plant itself.
Mayor Annette Main said Cardno BTO arrived at the treatment plant on Friday and are there again this week.
"We expect a report with their initial assessment on possible additional measures to reduce the odour very soon. Although the measures already in place are reducing the smell, doing everything possible we can to minimise the odour is our absolute priority.
"We have also asked Cardno BTO to look at whether we can continue to operate the plant with its existing infrastructure and, if so, how we can ensure it works properly in the future. If it's not possible to continue with the current plant, we need to know what type of plant is needed to deal with Wanganui's waste.
That report will take some months to fully research," Ms Main said.
She said some areas of Wanganui were badly affected by the smell yesterday and Monday.
"Wind direction and strength make a huge difference to which areas are affected and how strong the smell is. A strong wind dissipates some of the smell, but in a light breeze it hangs in the air.
"It is particularly bad in a south-easterly breeze."
The council's senior wastewater engineer, Arno Benadie, said the odour neutralising system around the pond was now completed, and bio-augmentation was continuing.
"Bio-augmentation involves growing good bugs and injecting them into the pond where they reduce the level of sludge. The testing showed it was healthy, digested sludge so the bugs are working as they should."
But Mr Benadie said this process would take some time, as the layer of sludge is about 3 metres deep. He warned there may be more stench coming from the ponds today as engineers try operating some of the aerators in the deepest part of the pond to increase the level of oxygen.
"However, this may cause sludge to be dragged to the surface, causing more odour."
For more articles from this region, go to Wanganui Chronicle