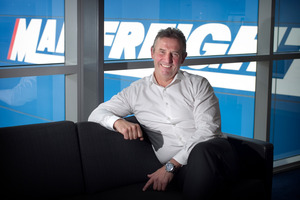 New Zealand is not working to its full potential and needs Government and public input to create significant growth, says one of the country's leading businessmen.
In the second of three essays from the country's "thought leaders" for the Herald's Career13 employment survey, Mainfreight group managing director Don Braid highlights shortcomings in the national mindset.
He calls for compulsory superannuation, a capital-gains tax on property (except the family home) and a longer parliamentary term.
"As a nation we need long-term policies, with investment in infrastructure and business. Under the current mandate of three years, our politicians get about a year to implement anything worthwhile in between taking on the mantle of Government and getting research and plans in place for the first year, followed by battening down during the third year to avoid criticism that would impact on re-election."
Mr Braid says the Government and public fail to understand what his company's overseas earnings mean.
"Mainfreight may not be an exporter in the traditional sense of the word, but of the $66 million profit earned in the last financial year, 56 per cent or $37 million was from our businesses offshore.
"Those funds contributed to our strong growth, safeguarding the ongoing employment of our team members, providing the ability to invest in better facilities and allowing us to pay dividends to our New Zealand shareholders.
"We need to encourage more companies to get off their backsides and take on the risk and challenge of offshore development."
He questions "the kudos that is showered on our gutsy entrepreneurs who develop outstanding companies, and then sell out to offshore business owners. The fact is that had these companies been retained in Kiwi control and encouraged to grow both here and offshore, the benefits to their investors and to New Zealand as a whole would be significantly greater".
In today's paper
*Job seekers need a finely honed set of skills to compete in the 2013 employment market.
*Have we seen the end of the Aussie job boom?
*From school-leaver to supermarket owner.