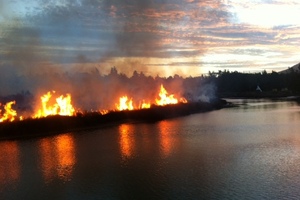 About 40 rural volunteer firefighters are battling a blaze threatening homes and businesses on Great Barrier Island, off the tip of the Coromandel Peninsula.
Firefighters were called to the south-eastern end of the island, near Claris Airport and Kaitoke Beach, about 1.20pm.
Eleven volunteer fire officers responded initially but the remainder of the island's complement of trained firefighters were soon drafted in, meaning about 40 people were battling the blaze.
They were backed up by three helicopters with monsoon buckets.
Up to 20 homes and factories near the area have been evacuated.
Resident Kerin Owen said the wind was blowing in a north-east direction this afternoon, meaning the fire was moving inland.
The fire had been spreading into a mature pine forest, a Fire Service spokesman said.
Mr Owen said he believed it was being brought under control this evening.
Great Barrier Community Board chairman Paul Downie said the fire was devastating.
He advised residents to prepare a bag of necessary items such as their driving licence and credit cards in case more people buildings needed to be evacuated quickly.
"I don't think we're at that stage yet, but we know Great Barrier is covered in a lot of flammable foliage."
The manager of the Crossroads Backpackers Lodge in Claris, Katie Langford, said they were getting ready to leave if the fire got too close.
"All I can see is quite a lot of smoke and we've got choppers buzzing around the place. It's still burning.
"We haven't been evacuated yet but we're just on standby," she said.
Claris Airport closed about 3pm and there were no inbound flights, said the operations manager, who gave his name as 'Greeney'.
Standing outside the airport, he could see flames, which were threatening to burn nearby manuka, pohutakawa and gorse.
"It's just across the runway. The (helicopter) buckets are struggling to keep it under control.
"We've got an onshore wind. It's heading towards the rubbish tip, golf course commercial buildings and a few houses," he said.
Departing passengers were being bused to the alternative Okiwi airstrip on the island.
About 30 firefighters worked on Sunday evening to extinguish a vegetation fire on the island which covered about 5000 square metres.
- APNZ