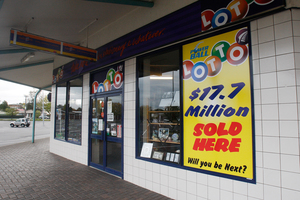 Three siblings will share a Lotto win of $500,000 after coming forward to claim their first division prize more than a week since it was drawn.
The trio bought the ticket in Hokitika.
They found out about their win the day after the January 12 draw but decided to wait until they could get together and travel to Wellington to claim their prize in person, said one.
It was a shock when their numbers were drawn, said a sister, who read the results in the paper and thought they looked very familiar.
"I thought 'can this be real'," before phoning her siblings.
"I said to them 'I've got some news... and it's good news.' There was still a few 'oh my Gods' in response," she said.
The siblings started their syndicate a couple of years ago, buying $6 Lotto ticket each week using their own lucky numbers.
One sister, based in Hokitika, took the lead buying the ticket and checking their numbers.
They planned to use their share of the winnings to help save for retirement, home renovations and travel.
"We are all still working but retirement doesn't seem that far off, so we decided to have a go each week at winning the big one - after all it can happen to anybody," said the sister.
A Wellington couple have also claimed their $1 million first division Lotto prize prize, two weeks after the winning draw.
The couple, who bought their ticket in Upper Hutt, regularly play Lotto but got delayed checking their ticket during the summer break.
- APNZ