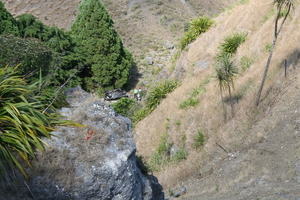 A 19-year-old man has died after a car plunged 150m down Te Mata Peak in Hawkes Bay.

Emergency services attended the incident shortly after 10am at the Havelock North park.

St John Hawkes Bay district operations manager Stephen Smith confirmed the death of the man, who has since been identified as 19-year-old Tom Hay of Havelock North.

"All we can say at the moment is a car that has gone off the road up there and we can confirm that ambulance staff, fire and police have attended," he said.

The matter was being dealt with by police.
A member of the public alerted emergency services when they saw the car upside down in a gully near the top of Te Mata Peak Rd just after 10am.
Mr Hay was the only person in the car, police said.
Te Mata Peak Rd remains closed while the vehicle was retrieved.
In November a man survived a 200m plunge in a vehicle from the same peak.
For more articles from this region, go to Hawkes Bay Today