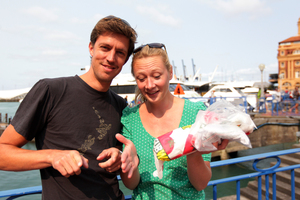 Subway's signature foot-long sandwiches are a bit shorter than their name implies.
Australian teen Matt Corby made international headlines this week when he measured the popular sandwiches and found they are an inch shorter than expected.
The Herald on Sunday ran the ruler over the fast food giant's buns at some of their Auckland city outlets and confimed we're as short-changed as our Aussie neighbours - they are 11 inches long, not 12.
Holidaying couple Jan-Albert and Anabelle Koopman, from Amsterdam, Holland, were surprised to be told yesterday their foot-long steak and cheese sub was a little lacking in length.
"Subway food is really cheap but if they say their sandwiches are a foot long, then that is what they should be," Jan-Albert, 33, said. "It is a bit like men lying about the size of their weenies."
His wife wasn't too impressed either.
"They must be selling millions of sandwiches all over the world that are shorter than they say they are. That is not right."
Subway in Australia's response to criticism has drawn ridicule from customers on social media.
In reply to whistleblower Corby's findings, Subway said: "Subway foot-long is a registered trademark as a descriptive name for the sub sold in Subway Restaurants and not intended to be a measurement of length."