'Height of stupidity' lands parent a reckless driving sentence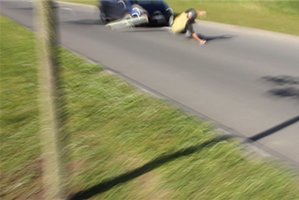 The terrifying moment when a skateboarder crashed at high speed in front of a car which had been towing him has been caught on film.
The 14-year-old Tauranga boy was knocked unconscious when his head hit the road, causing abrasions to his face, arms and legs. His right collarbone was also broken.
The man driving the car, 44-year-old Brendan Michael Dowd, pleaded guilty in Tauranga District Court this week to reckless driving causing injury.
Outside court, the head of road policing in the Western Bay, Senior Sergeant Ian Campion, described Dowd's behaviour as "the height of stupidity".
Dowd was sentenced to 60 hours' community work, disqualified from driving for a year and ordered to pay $500 to his teenage victim for emotional harm.
Dowd, his two sons and the victim had been skateboarding in Tauriko Industrial Park on October 4 last year.
The group were filming and photographing each other skating when someone suggested Dowd could tow the boys behind his car.
Each of the boys took four or five turns being towed at speeds of up to 50km/h before letting go and freewheeling to a stop, with Dowd braking behind them. On at least one run, Dowd towed two of the boys at once.
When the crash happened, Dowd was towing the boy at 50km/h.
The boy got the speed wobbles and fell off his board in front of the car, rolled several times and narrowly missed being hit.
Dowd had to brake hard to avoid hitting the boy.
Judge Thomas Ingram told Dowd he accepted this was not deliberate recklessness, but rather "foolish" use of a motor vehicle where injury was likely to occur.
"I'm rather surprised to see a man of your age before the court for engaging in something like this," Judge Ingram said.
"'I can understand perhaps you didn't think through the possible consequences of loss of control but, at 50km/h, if someone falls off they're going to get hurt."
Judge Ingram also took into account Dowd's contribution to the community, working with young people and encouraging them to engage in "worthwhile and healthy activities".
The victim's father, who did not wish to be named, said his son was on the mend.
He had been out of action for three months as a result of his shoulder injury, and the boy's mother had to dress his facial wounds for at least a month.
The father said he did not hold any grudge against Dowd and agreed the incident was not a case of deliberate recklessness.
"But when I was told how my son was injured, I was shocked. I just couldn't believe another adult, particularly a parent, would engage in this sort of dangerous activity.
"My son could have been more seriously hurt or even run over by his car. We could easily have been talking about a death here," he said.
Dowd declined to comment on the incident.
For more articles from this region, go to Bay of Plenty Times