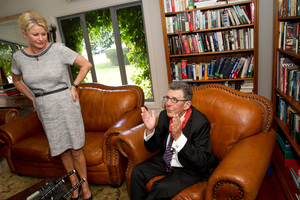 It was bittersweet watching Sir Paul Holmes receive his knighthood at his home in Hawke's Bay this week.
You know that if the Governor-General is willing to have the ceremony moved forward, and if he pays a house call, things are pretty serious for New Zealand's most talented broadcaster.
As Paul - oops, Sir Paul - said himself, he doesn't think Houdini's gonna do it this time.
It's well-known that Sir Paul has stared death in the face a number of times. On each of those occasions, he's managed to charm and cajole the Grim Reaper into giving him a few more years.
He has been given reprieve after reprieve, but now it looks like it's only a matter of time before the Grim Reaper has come to collect his dues.
Sir Paul will not die wondering. He lived honestly and with courage and with spirit. His place in broadcasting history is secure. His curiosity and his intelligence, his empathy for people and his quick wit made him one of a kind.
None of us will see the likes of him again.
He has loved fiercely and that love has seen his wife, his family and his many, many friends stand by his side through the good times and the bad.
His fierce and unwavering love helped his beautiful, talented daughter battle her demons and emerge triumphant.
His life has been a phenomenal success, personally and professionally. I am privileged to know him and proud to call him a friend.