The dearly departed Big Day Out is no longer on the music calendar, but is fondly remembered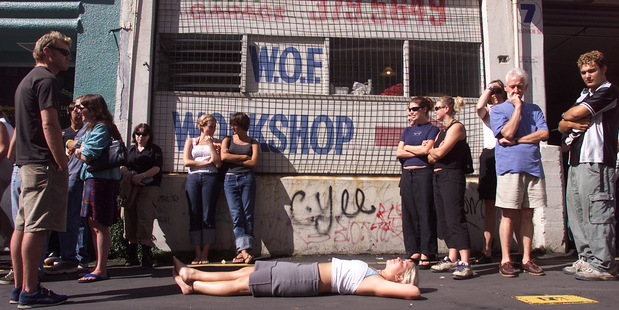 It was January 20, 2000. Nicola Vuksich was 17 and the sun was shining. Life was good, but the queue for Big Day Out tickets was long.
Vuksich couldn't be bothered standing around like everybody else, so she did what any independent, fun-loving rebel teen would - she lay down on the pavement to bask.
"I just decided that it was a fantastic idea to sunbathe, that would have been my mentality," Vuksich says.
"I'm wearing a boob-tube, a long grey skirt with my bikini on underneath. I remember the skirt, I borrowed it from my friend Amber, but I don't know who I went with.
"I can't see anyone in the photo that I know. I was like a hippie, I didn't wear shoes."
Like many BDO-goers Vuksich's memories of the event are a bit hazy. "I went to a few Big Day Outs.
The best one was the one with Pearl Jam." (The trouble is Pearl Jam never played.)
"They were great days, but I remember them being long. I'd go at the beginning, but it was probably better to turn up later. I'd have to go home early because I was always so shattered."
Now 30, Vuksich is mum to 11-year-old Bella. When her daughter is old enough - say 15 - she'll definitely encourage her to go to similar events. "They're a fun experience."
The all-day extravaganzas arrived here in 1994 but this year Auckland misses out.
Its place has been taken by smaller music festivals such as Honey Jam, Rhythm Rotorua, Laneway, Raggamuffin and Takaka's Luminate.
Big Day Out still plays five Australian venues, including the Gold Coast today.
"It's a shame they're no longer coming to Auckland," Vuksich says.
"It's really fun for young people. They were something to look forward to. It's nice looking back on that time, it's funny, it makes me laugh."
kathryn.powley@hos.co.nz