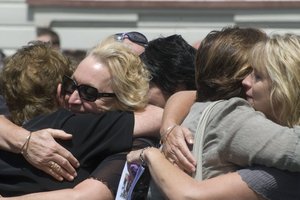 More than 700 mourners filled the Anzac Hall in Featherston to overflowing yesterday to farewell local man Glen Jones, who died after a vicious beating in his home.
The 40-year-old supermarket worker died in Wellington Hospital early last Saturday, hours after he was attacked.
Five people appeared in Masterton District Court yesterday on charges of aggravated burglary related to the fatal beating.
At his funeral yesterday Mr Jones' older brother Brent Jones tearfully recounted memories of his brother, known as Jonesey, and how he had been a born battler who had survived a brain tumour at just 2 years old, despite a diagnosis that he would die before he was 5.
"Unfortunately, late last Friday night evil came to visit ... and he lost his fight".
"He was a man with a heart of gold and only a little bit of mischief in his eye," he said.
"We've all learnt that life with Glen around is how life should be."
Celebrant Pam Bailey said Glen Jones' tragic death had united the community in sorrow and said that the death of someone at his age "shocks us".
"This is a travesty that should never have happened to someone so special, someone so young," Ms Bailey said.
A work colleague described Mr Jones as a kind man who was always smiling and willing to help. She also recalled his skill as a forklift operator and his knack of lighting up the work place.
"Jonesey you've made us laugh but now it's time for tears.
"We will all miss you and your uniqueness terribly and we will never forget you," she said.
A former girlfriend spoke of times spent with Mr Jones and said they shared a love of pool and nights out. Children of all ages were foremost at the funeral and joined a chorus of older voices when tributes were made and released balloons skyward after Mr Jones' body was carried from the hall.
"We miss and love you Uncle Glen," they said.
His brothers carried his brightly decorated coffin from the service, after which there was a private cremation.
A friend of Mr Jones spoke of their close bond and his deep regret that he had faced his attackers alone.
"In my heart I wish I could have been with you in your hour of need," he said.
For more articles from this region, go to Wairarapa Times-Age