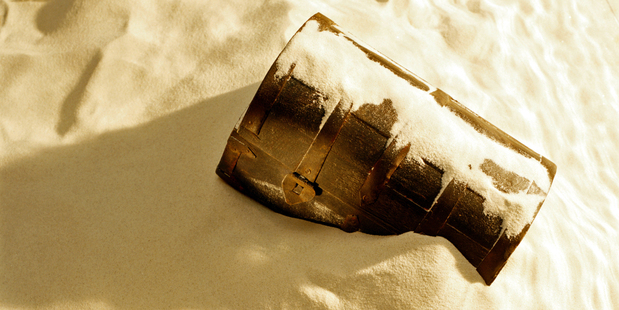 A treasure chest filled with shiny loot looked so realistic it was plucked from its hiding place on a beach and handed to police by a Good Samaritan before it could be found by children at a birthday party.
Four months after Rebekah Walker hid the chest on Kai Iwi Beach near Wanganui ahead of her son Jack's pirate-themed birthday, police told the family it had been handed in.
The treasure trove had taken three years to collect, with Mrs Walker obtaining the shiny pieces from op shops and garage sales.
She hid the treasure the night before the party among rocks along the beach, a place difficult to get to if the tide was not right.
On the day of the party, Mrs Walker made sure the treasure was still where she left it. It was.
However, the elaborate treasure hunt, with 20 adults and children all dressed in their pirate best, ended with no treasure.
Someone else had got there first.
"When we got there, the treasure was gone. There were a lot of sad pirates," said Mrs Walker.
She created a Facebook group pleading with the public to return her son's treasure. "I was really gutted, because I had planned this for three years. I'll admit I did cry."
Four months after the party, which was in August last year, Mrs Walker received a text from her husband saying the police had found it.
The chest was so realistic that when a member of the public stumbled upon it they thought it was lost property and took it to the station.
Sergeant Drew Allison dedicated himself to discovering where the chest came from.
The chest, bought by Mrs Walker at a second-hand store, had "L. Ward" inscribed on the top. "I spoke with the (Whanganui Regional) Museum and Alexander Library to find where the chest came from, which led on to inquiries with relatives of Lillian Ward, who by chance were Mrs Walker's neighbours," said Mr Allison.
Said Mrs Walker: "The neighbours remembered we had a treasure hunt and the treasure went missing."
For more articles from this region, go to Wanganui Chronicle