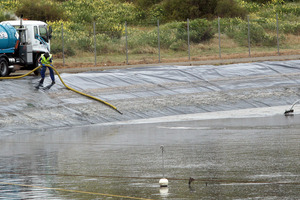 International wastewater experts will be in Wanganui today to begin looking into whether the city's wastewater treatment plant can be saved in light of the smell the city's residents have had to endure.
Wanganui District Council met yesterday and agreed to commission a report on the future of the plant from Cardno BTO, an international group of specialists in wastewater treatment and process engineering.
The city has been plagued by a stench from the plant since early December, when an unidentified local industry dumped a large amount of solid waste into the plant.
The council has since revealed that the plant, which is five years old, was poorly designed and has never functioned properly.
Infrastructure manager Mark Hughes said Cardno BTO was approached in November 2011 to review the plant and prepare a 10-year upgrade plan.
He said by that stage the council had not met the requirements of its resource consent for any year since the plant opened, odour complaints were still being received, and operating costs for the plant - mainly for electricity - were much higher than expected.
Mr Hughes said the council needed to find out whether the problems with the plant could ever be fixed.
"That's what we will be asking Cardno BTO to find out. We need to examine if the plant can ever be made compliant, and if so, how."
He said the time frame for that was three months.
For more articles from this region, go to Wanganui Chronicle