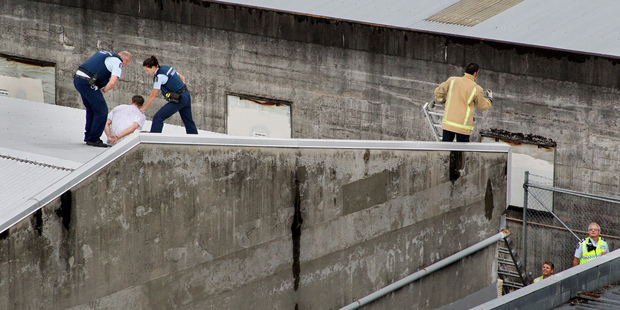 An intoxicated man led police on a dramatic chase across rooftops in central Hastings yesterday, before he was tackled, cuffed and removed by a fire truck ladder.
The man, who told police he was a 31-year-old from Havelock North, was allegedly intoxicated and damaging cars in the central business district about 4.45pm when concerned onlookers called police.
Constable Andy Clinton said that when the man saw the patrol car, he tried to escape by running into The Rotten Apple Backpackers.
"By the time I caught up with him he saw the car and shot up into the backpackers and a couple of the residents up there had indicated that he locked himself into the bathroom and wouldn't get out."
The man smashed the bathroom window to climb through, and made a getaway over roof awnings and verandas.
"He smashed a window to get out on to the awnings and we've kicked in the bathroom door to get to him," Mr Clinton said.
"We followed him out the window and basically chased him around here where he could go no further, and apprehended him."
The man lay on his stomach and was handcuffed by two officers, before a fire engine arrived to safely lift him off the roof with the ladder.
Mr Clinton said the man was arrested and charges were likely to follow.
Crowds of people had gathered to watch the chase.
Rotten Apple Backpackers owner Jason Heard said his clients were unperturbed.
"They thought it was quite entertaining. It was just so instantaneous," he said.
For more articles from this region, go to Hawkes Bay Today