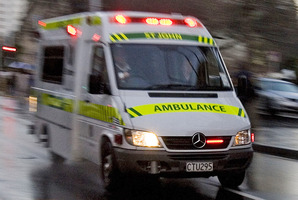 A 25-year-old woman was scaling a fire escape when she accidently fell two storeys from a central Wellington building early today.
The woman was taken to Wellington Hospital in a critical condition and had undergone surgery this morning.
This afternoon, she was in a critical condition in the intensive care unit, a hospital spokesman said.
Emergency services were called to Bute St, in Te Aro, about 6.30am after the woman fell from a second storey landing.
''[She] scaled the fire escape in an attempt to get into a residence,'' police spokesman Nick Bohm said.
It was not known whether she lived at the address.
Police were speaking to witnesses and working at contacting the woman's family.
Police were not looking for anyone else in connection to the incident and it appeared to be accidental, Mr Bohm said.
- APNZ