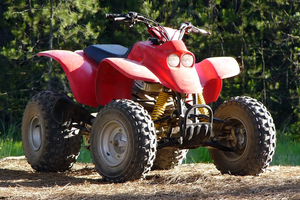 A 23-year-old farm worker suffered head and chest injuries when his quad bike crashed into a ditch in Marlborough last night.
It is the fourth quad bike crash this week.
The share milker was flown to Nelson Hospital in the Nelson Marlborough Rescue Helicopter following the crash at a Rai Valley farm about 6pm.
He suffered moderate head and chest injuries, a spokesperson for the helicopter said.
On Tuesday, Nathan Cleverley, 40, was found with serious abdominal and pelvic injuries after his quad bike fell on top of him near the edge of a river at a Matamata farm.
He lay injured for 17 hours, unable to walk after he came off his quad bike, before being rescued.
Mr Cleverley's ordeal started when he got off his bike to open a gate and the vehicle rolled towards him. As he tried to stop it, he was knocked into a deep ditch, with the bike toppling on to him.
Also on Tuesday, a 15-year-old boy was flown to Tauranga Hospital with back injuries when the quad bike he was driving along a road on Matakana Island rolled.
On Monday, a 40-year-old man on holiday in Taupo was flown to hospital with possible concussion after a quad bike accident at Taupo Quad Adventures.
- APNZ