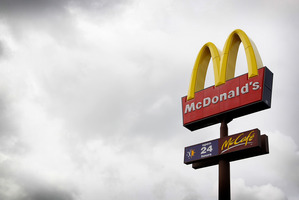 A senior McDonald's manager was allowed to continue working at one of its restaurants while he faced charges of molesting two young women.
Amninder Singh Brar, 25, was sentenced in Tauranga District Court yesterday after he was found guilty following two separate jury trials in November for indecencies against the two victims.
Both sets of offences occurred last year.
Brar was allowed to continue working at the McDonald's franchise family restaurant until he was convicted.
A McDonald's company spokesman said today that the company was not made aware of Brar's charges until he was convicted, which contravened company policy.
The spokesman said senior company executives had since carried out an investigation.
"We won't disclose that, other than saying that senior management carried out an investigation."
The spokesman would not comment on the outcome of the investigation when asked if the company owed an explanation to parents who may have trusted Brar around their children.
Brar was jailed for five years and three months for molesting two young women and will be deported to India at the end of his sentence.
He was found guilty on November 13 of one count of indecently assaulting a 17-year-old woman.
At a second trial on November 29 he was found guilty of one count each of sexual violation by unlawful sexual connection with a female aged 12-16 and sexual grooming.
During sentencing, Judge Thomas Ingram took into account Brar's pending deportation.
He said it was clear from character references that Brar had been a "hard-working young man with some talents and a very promising future" which was now "dashed".
The judge said it was also clear Brar's actions had resulted in "some substantial harm" to his victims and the need to protect the community from him was a key sentencing objective.
Outside court, one victim's mother said she and her daughter were satisfied with Brar's sentence, and happy he was going to be deported.
"But I am disappointed by the lack of response from McDonald's head office after I sent a letter four weeks ago in which I asked them to tell me why he [Brar] was able to continue working there despite these charges," she said.
"Ethically I feel they have a responsibility to ensure they make some changes to ensure this doesn't happen again to another underage girl," the mother said.
A McDonald's spokesman said several attempts were made to contact the mother.
For more articles from this region, go to Bay of Plenty Times