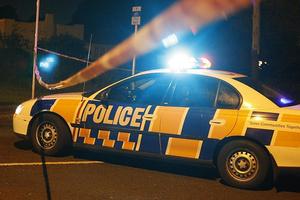 A man accused of stabbing a Kawerau man to death has appeared in the Whakatane District Court charged with murdering Gareth Lardelli Kaipara.
The accused man arrived in court on crutches this afternoon[16/01] and removed his shirt during his brief appearance, leaving him wearing only green shorts.
The man, who has been granted continued name suppression, was remanded in custody for two weeks for a psychiatric report to be carried out.
The dead man's name had been suppressed but Judge Peter Rollo released the name today.
The accused, a 31-year-old unemployed man, was originally charged with assault but the charge was this week upgraded to murder.
He was represented in court by Roger Gowing.
Mr Kaipara, 23, was killed last Thursday night at a Holyoake Cres house after allegedly being stabbed in the neck.
The accused and Mr Kaipara were known to each other.
Police were alerted to the incident after someone at the house made a 111 call requesting an ambulance. Ambulance staff then contacted police.
When police arrived, they found a 9-year-old child and three adults, including one woman and two men, at the scene.
The accused man will reappear in court on January 30.
For more articles from this region, go to Rotorua Daily Post