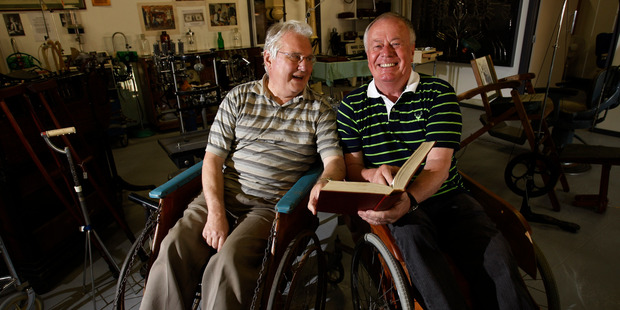 With forceps, saws, giant syringes, electric shock therapy machines and a ventilator for the paralysed resembling a coffin, it seems like a right house of horrors.
But the instruments at the new medical museum at Kiwi North were all used by doctors and surgeons in practice over the last century.
"People like the gory bits," said Kiwi North director Stewart Bowden. "They are things you'll never see in everyday life."
It's the collection of local Dr John Swinney, started in 1975 when he asked the Whangarei Hospital board to run old or obsolete equipment by him before getting rid of it.
"From the doctor's point of view things are improving all the time and John didn't like them throwing the older stuff away," said Mr Bowden.
While the museum is more or less ready for viewing now, it will be opened officially on February 2 by the Governor-General Sir Jerry Mateparae.
By then opening times will be confirmed and Mr Bowden hopes to have arranged people, such as volunteer doctors, to explain how things worked.
"A lot of work has gone into this place - but it wouldn't have happened if it wasn't for John," Stewart said.
Specialist anaesthetist Dr Swinney had rescued many items of worth in his historical quest since the 1970s - including a letter from Florence Nightingale, which sat in a dirty workshop for years.
"Most of this is from Northland," he said. "I am absolutely amazed at what has come from the cupboard."
His favourite piece of equipment in his collection is the 1938 ventilator used as a breathing apparatus for paralysed people. It resembles a coffin with a hole at the top for the person's head and neck.
Other interesting pieces of equipment include the small black box with wired electric paddles initially believed to be for electric shock therapy, but then discovered was touted as a wrinkle remover in 1899.
Other items of interest were the anaesthetic machines dating back to 1920, and the sigmoidascope - an awfully large looking metal tube with an extendable end used for rectal examinations.
For more articles from this region, go to Northern Advocate