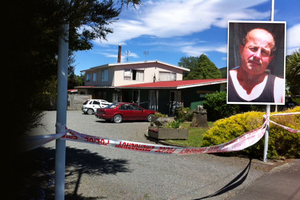 Police throughout New Zealand are on high alert trying to track the remaining person wanted in relation to an incident in Featherston that resulted in the death of supermarket worker Glen Jones early on Saturday.
Hayden Ranson, 27, is believed to be in the central North Island or further north and is the last of five people sought in relation to the death of Mr Jones.
Police communications manager Nick Bohm confirmed late yesterday that Ranson was being "actively pursued" by staff throughout the country.
Three others - a man aged 28 and two women aged 32 and 22 - have already appeared in court and have interim name suppression.
The fourth, Kristofer Jones, 23, who also fled but was found and arrested in Hunterville at 2am yesterday, appeared in Palmerston North District Court yesterday.
Like the others he was charged with aggravated burglary. He will appear alongside his co-accused in Masterton District Court on Friday.
Jones appeared in court yesterday in a prison-issue white boiler suit. He entered no plea and was remanded in custody.
He stared straight at Justice of the Peace Ray Bensemann as he was charged and nodded when asked if he understood.
The family of Mr Jones issued a statement yesterday telling of their devastation.
They said he was loved by them and his friends and would be especially missed by his nieces and nephews.
"He was part of the fabric of the Featherston community and lots of people looked out for him.
"We know many people around town had a soft spot for Jonesy and will sympathise with our grief."
The family said the support they had been shown since the death of Glen Jones had been "overwhelming".
"We sincerely want to thank you all for that."
The media had supported appeals for information and respected the family's privacy.
Mr Jones's funeral will be held on Friday.
- Additional reporting by Alecia Bailey of the Manawatu Guardian
For more articles from this region, go to Wairarapa Times-Age