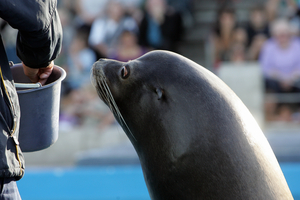 Stories making headlines across New Zealand at noon include the mystery death of a sea lion in Napier and an Auckland romance writer is set to become the next big thing.
Makea the Californian sea lion has died at Marineland in Napier just weeks after his buddy Rufus passed away.
An author from One Tree Hill is set to become the next big thing in romance writing after her debut novel was published by Random House in New York.
A large dog has somehow become disconnected from the chain securing it to the back of a moving ute and jumped directly into the path of the police car driving in the opposite direction.
Raggamuffin has grown even bigger with four new DJ acts added to the line-up, including Rotorua's DJ Masive, aka Sam Hema.
Wanganui isn't the only place in New Zealand that smells bad. Efforts continue in earnest to get rid of the stink in Wanganui.
A youth allegedly threatening a police officer with a bayonet and a knife near Culverden has been zapped with a taser.
The school that once employed a senior Tauranga teacher facing a charge of paying a 16-year-old girl to perform sexual services for him is fighting to keep its identity secret.
Ex-Oamaruvians are doing all they can to keep cool in Australia.
The Westland District Council, which faces court action over its "restrictive" freedom camping policy, says campervans can already park all over the district.
Top trending topic on Twitter in NZ at noon were: #followmeandrew, #IGotAThingFor, Golden Globes, New Zealand, #Laugh, #blackcaps and #SAvNZ

Other stories making headlines across New Zealand:
Lesley Elliott offers support to McGrath family
Bike festival brimming with events for everyone
Tyre storing couple reject critics
Dog death test results awaited
Police say do not approach fugitives
- Herald online