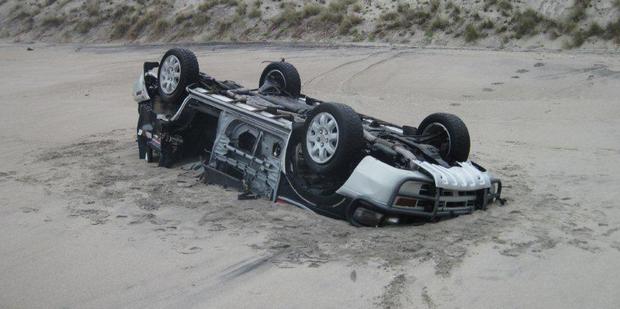 An abandoned car on a Tauranga Beach has Bay of Plenty police stumped.
Members of the public contacted police yesterday with concerns about an abandoned vehicle, which lay partially buried in sand near the Kaituna River mouth on Papamoa Beach.
Because no cars fitting the description - a Mitsubishi 4X4 - have been reported stolen, police are looking for the owner.
"Due to the vehicle being partially buried in the sand we have been unable to get a serial number off the vehicle to identify the owner," said Bay of Plenty Regional Council pollution team leader Steve Pickles.
"The vehicle has some distinctive paint on the bonnet and we urge anyone who knows anything about the owner of this vehicle to contact the Papamoa Police."
A contractor has been hired to salvage the car as soon as possible, amid fears that fuel, oil and battery acid could leak into the sand.
The council is also worried that the car could pose a risk to beach users, especially as it breaks down over time.
An investigation to find the owner is ongoing.
- nzherald.co.nz