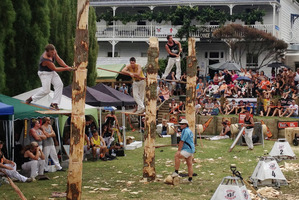 The village of Puhoi kicked off its 150th anniversary celebrations with a woodchopping carnival at the weekend.
The eighth annual event in front of the Puhoi Pub hotel, about 50km north of Auckland, attracted 34 competitors from all over the North Island on Saturday.
The woodsmen competed in teams with the locals, the Puhoi Woodchoppers, pitted against teams from Taranaki, Northland and beyond.
Puhoi was settled on June 19, 1863, by German-speaking migrants from Staab in Bohemia, now a province of the Czech Republic, under the leadership of Captain Martin Krippner. Puhoi and Akaroa are New Zealand's only two ethnic historic villages.