Sudden flood washes away hippopotamus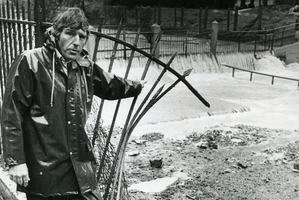 Has anybody seen my hippo?
Parka-clad and with worry etched on his face, it's a question Graham Meadows and his colleagues at Auckland Zoo found themselves asking one wet day in February 1979.
Meadows, the zoo's curator since 1975, was dealing with some horrifying news: a dangerous animal was on the loose.
That animal was resident female hippo Bonnie and she was free, albeit still inside the zoo's perimeter fence, after floating out of her enclosure when a surging Motions Creek flooded parts of the zoo.
Meadows, now 78, can't remember when the photo of him posed next to Bonnie's busted enclosure fence was taken, but insists it would have been after the hippo had been recaptured.
"There's no way I would've been posing for a photo if she had still been out."
But he accepts the expression on his face reflected the worry he felt that day. "I was concerned. You don't often get hippos floating out of their enclosures and that's what she did, she literally floated out."
Still, Bonnie wasn't as dangerous as she might have seemed.
Hippos have a fearsome reputation, killing more people than any other animal in Africa. But Bonnie was a sweetheart, Meadows says.
"She was a lovely animal. You could pat her nose and rub her nose and I've got pictures looking right down into her mouth. She was so gentle and good with people. Everybody was really sad when she died a couple of years ago."
The brief taste of freedom for the captivity-bred hippo was probably as worrying for her as it was for zoo staff, he says. "She would've been rather wondering what was going on."
He can't remember how the hippo was recaptured, but says they probably used a few tasty morsels to gently guide her home.
"The lure of food is usually enough to bring most animals around. You don't have to go chasing them about."
After Bonnie was back in her enclosure, the incident was barely discussed, a fact Meadows accepts would be unlikely now.
"There would've been some talk about what happened, but it was such an extreme event ... I don't think there were any changes made. Thirty-five years ago things were slightly different."