From nuclear testing to global warming - the cause may have changed but Greenpeace is back on the ocean waves. Catherine Masters set sail on the revamped Rainbow Warrior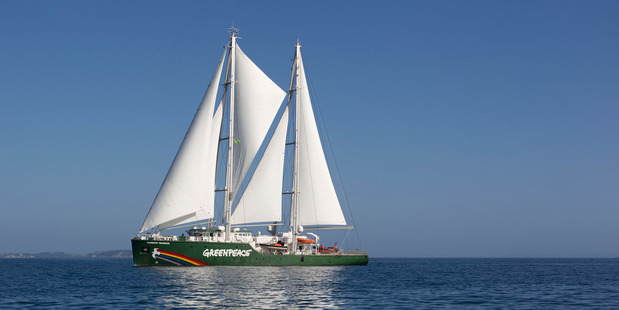 There's a garbology room on the new purpose-built Rainbow Warrior and a garbologist is rostered on at all times to sort the rubbish into the appropriate bins.
Garbology is a real discipline (the relatively new study of trash) and for Greenpeace is about keeping the environmental impact to a bare minimum as they voyage around the world.
Recycling is so important on this modern version of the campaigning Rainbow Warrior boat, which is travelling and touring New Zealand for the first time, you could be forgiven for fearing that if you did put rubbish in the wrong bin sirens would go off and everyone would point.
Actually, it's more likely one of the United Nations-like line-up of mostly youthful and passionate crew would discreetly point out the error of your ways.
Of course, there's more to the boat than rubbish recycling. This is the first ship purpose-built for Greenpeace.
It's fast, with tall A-frame masts that enable a helicopter to easily land and take off, there are action boats that can be rapidly deployed in pursuit of vessels suspected, say, of over-fishing in the Pacific Ocean, there's an onboard satellite communications system so that environmental "crimes" can be streamed live and everywhere you go there is environmentally-friendly equipment and materials - and people.
The bunks are comfortable, too. There are two beds per cabin with a semblance of privacy provided from the green curtains, which pull across.
There has to be some semblance of privacy, though really there is virtually none anywhere onboard, because crews are at sea sometimes for weeks on end.
Said one crew member, when you're out for weeks and weeks, if you have a big personality you make it smaller and do the same with your personal space. "You need to do that - for your own sanity and everyone else's."
The journey from the Indian Ocean to New Zealand was one of the longest at 40 weeks and at Matauri Bay in the Far North they were delighted to have solid ground and grass under their feet, even if briefly.
The new ship headed to this picturesque part of the country for a ceremony to hand over the spiritual baton from the original ship which was bombed in Auckland Harbour in 1985 and laid to rest here 25 years ago under the guardianship of local iwi, Ngati Kura.
On board was a 56-year-old American who remembered the night of July 10 clearly and not just because it was his 29th birthday.
Steve Sawyer had left for Piha for a meeting 10 minutes before the bombs detonated, claiming the life of cameraman Fernando Pereira and shocking not just Greenpeace but New Zealand and other parts of the world.
Then the boat's anti-nuclear campaigner and now a climate change expert, Sawyer leant against green squabs in the crew lounge and cast his mind back 27 years to that different boat, recalling that in the days after the bombing he received a phone call from then Prime Minister, the late David Lange, who said "I'm terribly sorry for this terrible tragedy" and assured him the Government would do all it could to make sure the perpetrator was brought to justice.
Sawyer then talked about the original Rainbow Warrior's final campaign, to remind just why the ship is out there. Before the bombing, it had been used to evacuate 350 people, plus buildings and livestock, from contaminated Rongelap Atoll in the Marshall Islands during the era of nuclear testing in the Pacific.
"There were a fair number of deformed kids, retarded kids, basically Down Syndrome and worse," said Sawyer. "A lot of the women had thyroid scars (from tumours) and men too. Childhood leukemias. Stories of miscarriage after miscarriage after miscarriage.
"The fall-out came and the kids thought it was snowing and were playing in it, rubbing it all over and making snowballs and throwing at each other. They had no idea."
The fall-out was from nuclear tests conducted by the United States in the 1950s but France was still testing in 1985 (it continued until 1996) and the Rainbow Warrior had been docked in Auckland prior to leaving to protest at Mururoa Atoll.
Sawyer said the idea was to harass and push the French, always with the value of non-violent protest, but no one anywhere expected the reaction to be so violent.
"It seems an extraordinarily stupid thing for a democratically-elected OECD Western government to do, particularly in a country who had sent thousands of its young men to die to protect its freedom not too many years before."
The trip to Matauri Bay was to have the new boat blessed by Ngati Kura and reconnect with the iwi, which had allowed the "burial" to be there.
As the ceremony on board was going on, small boats gathered around on the blue/green sparkling waters of a glorious summer's day and in one of them was New Zealand actress Lucy Lawless who swung off a rope to swim in the sea and then went across to the Rainbow Warrior to watch for a short time.
Lawless had been a climate ambassador for Greenpeace but stepped up her involvement in February last year when she and other activists boarded an oil drilling ship in New Plymouth. They refused to get off in order to stop it leaving for the Arctic to explore for oil, which activists say it can do only because the ice is melting so fast due to climate change.
Lawless played New Zealander Bunny McDiarmid's character (the other crew member from the bombed boat present) alongside Sam Neill in a film about the bombing of the original boat and said this is one reason why she is happy to be involved with Greenpeace - "I knew they were good, serious, honest and also fun people, truthful people."
She said she took part in the protest action in Taranaki because "the Arctic is the big, fat budgie in the bloody coalmine, it's not even a canary. This (climate change) is going to affect all our futures around the world so it's a great symbol of the monster we have to get on top of."
After the ceremony the crew had disembarked to Matauri Bay, a somewhat elaborate process of getting into lifejackets, then a motorboat, then transferring to an inflatable and being dropped at shore.
Kaumatua Hohepa Epiha doubled as guide of the tiny settlement of only 120-odd permanent residents.
He took them to the marae on the hilltop where they took off their shoes and entered, the back wall covered with photos of whanau who had passed away. Epiha explained concepts of Maori culture, such as "we give it back to the land because we are made of the land, we come from the land so we need to look after the land so the land can look after us".
He then took them outside to the grounds with stunning backdrop of the bay and the boat visible far in the distance, and talked about not ownership of the land but guardianship: "Let's get into the grain of knowing the word 'ours' rather than saying the word 'mine'."
In the van Epiha talked about there being enough room on the planet for everybody's needs "but I'm telling you, there's not enough for everybody's greed".
The Rainbow Warrior's captain, American Joel Stewart, was particularly impressed with that and said, "so you mean nine billion people on the planet can't all drive cars", to which Epiha had replied that some people get more than they need, "but they don't want a bike any more, or a horse, they want two cars, if not three cars".
Stewart is a quietish figure but one who kind of winds up in intensity as he speaks.
Back on the the boat, he says there is plenty to be angry about.
Climate change is a huge issue. There is acidification of the ocean taking place and we are facing major loss of biodiversity.
"We've got species going extinct every day in our oceans. We're going to lose our oceans, we're going to lose coral reefs, we're going to lose most of the fish stocks.
"It's going to be a sea of algae and jellyfish - and that makes me angry. We have a beautiful planet and on my watch it's being destroyed. It's everybody's responsibility to step up and do something about it."
He felt inspired listening to what he had heard at Matauri and said New Zealand could be the leaders in a clean energy revolution, because the country has a history of saying no to the big corporate or super power interests.
"They've said no to nuclear testing, they've said no to nuclear warship visits. Well, now it's time for New Zealand to step up and say no to fossil fuels."