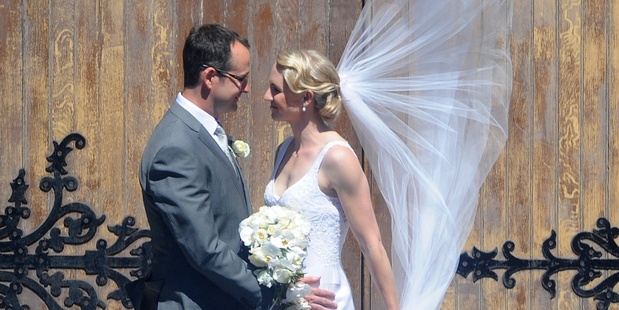 World champion cyclist Alison Shanks, 30, had her husband-to-be watching the clock as he stood outside their wedding venue in Dunedin yesterday.
Craig Palmer, 37, and his three groomsmen arrived at First Church half an hour before the wedding.
Mr Palmer wore a dark grey suit, the groomsmen light grey. All wore a white rose boutonniere.
As he waited, arriving guests shook his hand and slapped his back, offering reassuring words as he waited and chewed gum. In a quiet moment, he took a page from his pocket for some quick revision.
After more than 100 guests made their way inside - a show of smart suits and flowing summer dresses - the hellos, handshakes and kisses on the cheek continued, as flower girls in white dresses and page boys in black suits peeked from the church doors out into the courtyard.
All the guests were ushered into the church, including Dame Lois Muir and silver Fern Anna Harrison, to await the bride's arrival.
And the minutes passed.
Then a VW arrived and three bridesmaids in purple dresses appeared holding colourful bouquets.
Then another VW arrived, 10 minutes late, with his and hers racing bikes on the roof rack.
From the car the bride emerged in a traditional long white dress, with a longer veil, which caught in the breeze and trailed behind her as she climbed up the church steps.
After the service, husband and wife emerged, smiling and stopping to kiss on the church steps as the crowd came out for photos.
Shanks, a former netballer, switched to cycling in 2005. She won world cycling titles in 2009 and 2011.
The reception followed at Larnach Castle.