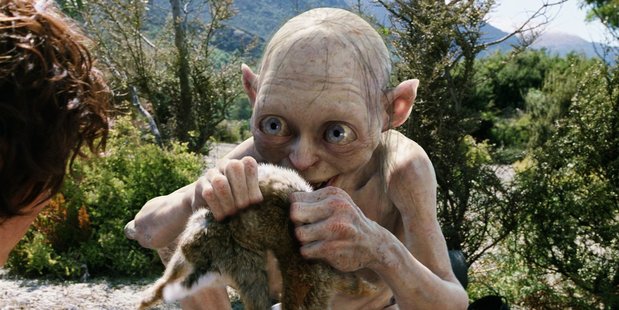 Hobbit fans are disappointed the first film in the trilogy has received only three Oscar nominations, but director Sir Peter Jackson is thrilled.
The Hobbit: An Unexpected Journey missed out on nominations in the directing, acting and overall best picture categories for the Academy Awards.
But the epic picked up three Oscar nominations for technical awards - makeup and hairstyling, production design and visual effects.
The first The Lord of the Rings film was nominated for 13 awards, including best picture and best director, and won four, for cinematography, visual effects, makeup and original score.
Many fans on TheOneRing.net fan website were disappointed. "They deserve more than three nominations," one fan wrote. "Ian McKellen and Martin Freeman were awesome and the music of Howard Shore, the cinematography, the adaptation ... It can't be more disappointing."
Another wrote that three nominations was the least the film deserved. But not all were disappointed, one commented: "I'd give it one Oscar for Gollum's special effects.
It deserves no more than that I'm afraid."
Sir Peter's spokesman Matt Dravitzki said they were pleased with the nominations. "We're of course thrilled that the technicians on the film have been recognised with three nominations in visual effects, make-up and art direction."
Weta Digital was nominated for its visual effects in The Hobbit, The Avengers and Prometheus.
It is only the second time since 1991 that a single visual effects company has received three nominations for one award ceremony.
Film New Zealand chairman Julian Grimmond said the The Hobbit's nominations were wonderful news.
"To receive a nomination ... is an extraordinary achievement in itself, and to receive three is a tremendous statement on the skill sets within the New Zealand screen industry."
- APNZ