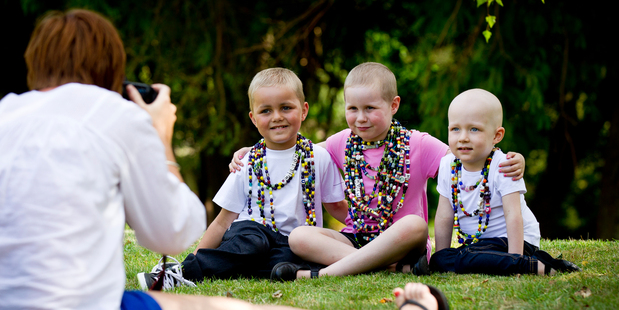 Myah Tasker's Beads of Courage necklace is so long it doesn't matter how many times it's wound around her neck, it keeps slipping down her shoulder.
Each time it happens, her mother, Denise, interrupts the photoshoot and tells her to fix them so the picture is perfect.
Myah, 6, of Dunedin, is one of the three young stars of this year's Child Cancer Foundation appeal, and yesterday the children got a taste of what being famous would be like.
Emilie Johns, 4, of Point Wells, Rodney, has been practising walking with a book balanced on her head.
"That's what she thought being a model would be like," her mother, Kerri, joked.
Hilton McCullough, 5, of Wellington, knows how he should be smiling - his mother, Rebecca, takes a lot of photos - but to her gentle frustration he often defaults to a cheeky grin instead of the broad smile they rehearsed.
Myah, Emilie and Hilton have all battled cancer and have finished treatment or are in "maintenance mode", which requires chemotherapy pills and lumbar punctures among other treatments. And they all have the beads to prove it.
Myah easily has the most - almost 1000. She was diagnosed with Wilms' Tumour - a cancer of the kidneys - while she was in the womb and had a kidney removed as a baby. That was her first set of beads.
Five years later, almost exactly a year ago, she relapsed and began collecting a second set. She has now completely finished treatment.
Hilton, almost eight months after he was diagnosed with leukaemia, finished his intensive treatment just before Christmas. He'll now have maintenance treatment for two years.
Emilie has also just started her maintenance treatment in her battle against leukaemia, and is looking forward to her brown, wavy hair growing back.
"She loved her hair," Mrs Johns said. "For her birthday, she had a Rapunzel cake with lovely long hair."