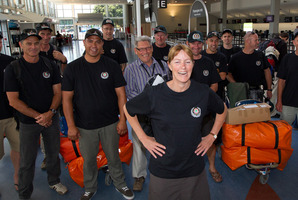 A Kiwi firefighter on the front line of the bushfires raging in Tasmania says she is up to the challenge - but watching out for snakes and biting ants takes a bit of getting used to.
Northland's Clea Gardiner, 50, is among a dozen New Zealand firefighters who began battling the fires on the island state today.
Two crews of six New Zealanders arrived on Wednesday, were briefed yesterday and got behind their hoses today.
Ms Gardiner said her crew and two Australian firefighters were helping to fight a 4000 hectare blaze at Montumana, in the northwest of Tasmania.
Dressed in full overalls, heavy boots and helmets, and dragging heavy hoses around, Ms Gardiner was worried it would be too hot.
"But it's not too hot at all. We've just been laying out lots of hose line and just working down the burn line,'' she told APNZ.
Ms Gardiner said it was not dissimilar to fighting a scrub fire in New Zealand - but it was bigger. "We would never have a fire of this size.''
The crew was doing a lot of mopping up after the fires had burnt out.
"The work at the moment really is quite similar to home. If it was big, high flames, that would be quite different - we don't get that.''
One of the challenges was watching out for snakes and large ants with a nasty bite.
"We don't have them in New Zealand - we don't have anything that bites us at all, so that's a bit of a novelty for us.''
Ms Gardiner said locals had made an effort to thank the New Zealanders wherever they went.
"People are bowling up to us all the time and saying thank you.
"All of the Australians have been incredibly appreciative and welcoming of us being here, and very cool, calm, collected and organised. But I guess they're used to this.''
Ms Gardiner said working overseas was something she had wanted to do for a long time, and she finally had the opportunity.
Her family wasn't too worried about her wellbeing.
"I think they'll just know that I'm enjoying the challenge.''
The Kiwi firefighters, plus a liaison officer, are expected to stay in Tasmania for more than a fortnight.
The fires have so far destroyed more than 100 properties.
- APNZ