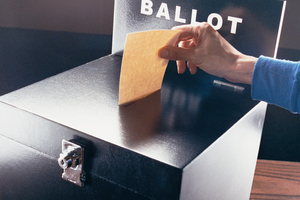 A polling station inside Israel's embassy in Wellington has received the first vote for the 19th Knesset elections.
Early voting for the Israeli parliamentary elections has started, with New Zealand the first to open its polls at 11pm last night (NZ time).
Around 4000 Israeli envoy workers are casting their ballots in 96 missions around the world.
Overseas voting will conclude in Los Angeles on Friday.
The Central Elections Committee said that official Israeli delegates including diplomats, civil servants, security personnel, Jewish agency workers, Jewish National Fund and World Zionist Organisation staff, have been voting overseas since 1996.
The first Israeli parliament convened on February 14, 1949.
Two days later, it was ratified by law and its name changed to the First Knesset, which is Hebrew for assembly, and Chaim Weizmann was elected as the first president of the State of Israel.
- APNZ