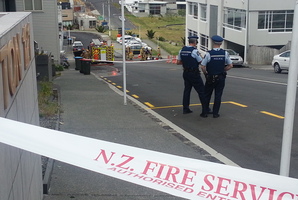 Two suspicious bags found in central Auckland this morning do not contain explosives, police say.
Fire Service spokesperson Tania Matthews said the fire service was contacted by police at 10.23am after the bags were found at the intersection of Diamond and Norwich streets in Eden Terrace.
The two bags were reported to contain 15kg of "blasting type B" white powder, she said.
However, a police spokesperson said the bags were found not to contain explosives.
He said the bomb squad has been stood down. However, police remain at the scene.
Emergency services had based themselves at a safe point on Newton Rd.
Police had evacuated people from nearby buildings and a 100 metre cordon was place around the scene.
Newton Rd and Diamond St were also closed.
- nzherald.co.nz