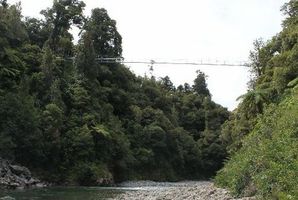 Flash flood warnings for recreational river users would not be feasible or reliable, says the regional council.
The question of whether flood warnings could be used was raised by a family member of Greytown man Michael Hopkins, 53, who died while rafting in the Waiohine River.
Mr Hopkins, an Oscar-winning sound editor, was killed on December 30 after a wall of water rushed through the gorge following heavy rain higher in the catchment.
A family member wrote to the Times-Age questioning whether warnings were feasible, as rain gauges and water gauges are already in place on the river.
Greater Wellington Regional Council environmental science manager Graham Sevicke-Jones said the council had flood warnings in place on the main Wairarapa rivers to allow farmers to move stock, authorities to close roads and bridges and homes to be evacuated.
"For the Waiohine River, these are triggered when the river flow gauge in the lower gorge reaches certain levels. So the water is already well down the gorge when the flood warning is triggered," he said.
Mr Sevicke-Jones said there was no system to warn recreational users in the gorge that water levels were rising quickly.
"I don't know of any regional councils that have a service that extends beyond a flood forecasting response system," he said.
"The ability to accurately predict the rate a river will rise is very difficult because every river catchment is different and the intensity of weather events can vary greatly over a catchment.
"Sometimes much of the rain is absorbed by the ground and the rivers don't rise and other times it runs straight off and the rivers rise quickly."
Given the complex network of rainfall, soil moisture and water flow instruments required, such a warning system would be impractical and unreliable, Mr Sevicke-Jones said.
MetService's weather forecast and hazard predictions are the best way for people who are planning outdoor activities to check the weather conditions.
For more articles from this region, go to Wairarapa Times-Age