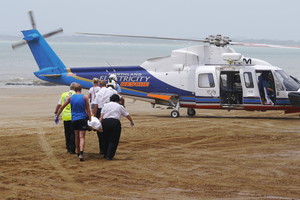 Almost $10,000 worth of specialist tools and 10kg of copper cabling has been stolen from the hangar used by the organisation behind the Northland Electricity rescue helicopter.
The hangar, which is the old aero club hangar building at Onerahi airport, was being used by the Northland Emergency Services Trust to store parts and a helicopter being stripped to be refitted as a training helicopter.
NEST operations manager Dean Voelkerling said the break-in, believed to have happened on the night of January 6, was disappointing.
"It makes me quite angry."
While the only thing that has been removed that is property of NEST is scrap copper wire which has "no inherent value" to the trust, the tools that were stolen belong to private contractor - Steve Pascoe, a helicopter engineer for Northland Aviation - who has been helping strip the helicopter.
"He's lost all of his tools. And these are aviation grade tools - which he estimates to be worth around $10,000 - which does include your basic spanners and screwdrivers but then there's also very specialist tools that Steve has acquired over 10 or 15 years."
dentifying the stolen wire may aid the search for the tools, which Mr Voelkerling described as "very distinctive".
"It's aviation wire and would be very hard to use in its current form. It is very fine white insulation wire with numbers all along it."
Onerahi community Constable Aaron Furze said the thieves entered the hangar by prising the doors open.
For more articles from this region, go to Northern Advocate