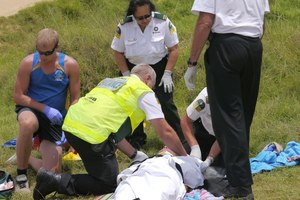 Sandboarding at a popular Northland dune came to a sudden halt after a high-speed accident prompted a call to the rescue helicopter service yesterday.
A 30-year-old man was airlifted to hospital with suspected back injuries after flying down the renowned dune at Shipwreck Bay and crashing at the bottom just after midday.
Fellow sandboarder Tom Van Der Leden was halfway up the dune, at what locals call Mookies 2, when he saw the man appear at the top, laughing and waving.
"Next minute he came flying over the hill, head-first, really fast. Everyone thought he was going to stop but he hit the grass and bounced twice. He was flying and he flew a long way," Mr Van Der Leden said. "Everyone laughed and then stopped when they realised. He was obviously very winded and was groaning. Then he asked for help."
Another witness said the man had hit cars parked at the bottom of the dune but this could not be verified yesterday.
The man was taken by helicopter to be X-rayed for suspected broken vertebrae. News of his condition was not available.
For more articles from this region, go to Northern Advocate