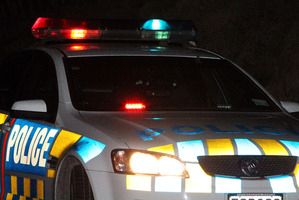 An intoxicated man who sparked a police pursuit overnight after he stole the taxi he had been riding in and sped down an Auckland motorway the wrong way has been arrested.
The incident happened just before 11pm when the "grossly intoxicated" man got a Cheap Cabs taxi in West Auckland, said Police Communications Shift Manager Kerry Watson.
The man started threatening the driver and then stole the vehicle, leaving the driver on the side of the road with only his cellphone while he "drove around west Auckland erratically", said Mr Watson.
Police used GPS to track the taxi to Kumeu and pursued it along the North Western motorway, where it reached speeds of up to 150km.
It later hit a barrier at St Lukes, causing extensive damage to the taxi and then turned and the drove back onto the motorway driving the wrong way, narrowly missing several vehicles, said Mr Watson.
A police patrol car tried to block the vehicle, but they collided.
Just before Western Springs, the driver abandoned the taxi in the middle of the road and a police dog tracked him a short distance from the vehicle.
He has been arrested and remains in custody.
- APNZ