Construction workers lift vehicle off 60-year-old after coming across crash in the Queensland Outback.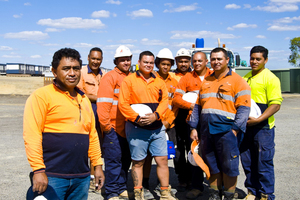 A wife has paid tribute to nine Kiwi construction workers who lifted a ute off her husband after a crash in the Queensland Outback.
A three-car convoy of New Zealanders, most of them from Auckland, rescued the 60-year-old after being stopped by his screaming wife on Sunday night as they drove 470km from Brisbane to Roma.
One of the builders, Matt Hapeta, said the man was thrown from his ute as it spun off the Warrego Highway, about 10km east of Yuleba, about 10.30pm. The driver was pinned under the cabin for about 10 minutes after the ute came to a stop, still upright, halfway in a ditch.
"We put on our brakes and we knew something was wrong. People were just screaming ... that someone was trapped," Mr Hapeta said.
"By the time we located the dude we were a bit worried. He was conscious. He couldn't speak but you could tell his body was moving and he was moaning [in pain].
"He had burn marks across his shoulder and chest from the muffler. We didn't want to move him [straight away] in case he had spinal injuries."
Some of the builders unloaded furniture from the ute to ease the weight on the trapped man. Others used their high-visibility clothes to reflect mobile phone lights onto the road to direct traffic. They took a few moments to decide the safest way to retrieve him before six grabbed his vehicle. "We just lifted the whole ute and one of us pulled him out," Mr Hapeta said.
"There's a little bit of talk that one guy lifted it by himself," he joked.
The New Zealand men have won the gratitude of the driver's wife, who gave her name as Kristine W, and praise from the Queensland police.
The rescued man was flown to the Princess Alexandra Hospital in Brisbane to be treated for severe chest and other injuries and was last night in a critical but stable condition.
His 15-year-old son was taken to Roma Hospital with minor injuries.
- APNZ