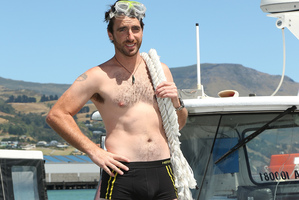 Lyttelton ferry skipper Ben Coburn first startled and then received applause from 66 waiting passengers after stripping down to his undies and plunging overboard to free a propellor from rope.
The Black Cat Cruises ferry ran into trouble on Sunday when a rope became wrapped around the port side propellor on its way to Lyttelton from Diamond Harbour.
"I heard a clonk and thought uh oh. The engine stalled out and I shut it off and we limped to Lyttelton on one engine arriving about 10 minutes late," Mr Coburn, 28, said yesterday.
"It was the busiest possible time of the year. We were doing the run to the Lyttelton market and we were absolutely jammed packed."
Faced with 66 people waiting on the Lyttelton wharf for the return trip to Diamond Harbour, Mr Coburn said he didn't hesitate to strip down and go over the side.
"I was feeling a little bit of pressure - we were already 10 minutes late. Before anyone could moan I was in my underpants, with my pocket knife, mask and in the water.
"I got a few concerned looks as I was going (over) but it was all safe, there was another staff member on board," he said.
Mr Coburn said he could see the rope was wrapped around the propellor and on his second dive he freed the rope with his trusty pocket knife.
Still only sporting his undies, Mr Coburn started the engines to the applause of grateful travellers and then quickly got back into his uniform.
"Yeah I was soaking wet, but got back into my uniform," he said.
Mr Coburn said he was he was fortunate his partner Nancy Train had made sure he was well equipped for such an occasion - she bought him the undies for Christmas.
"I actually had on some very nice underpants from Christmas that my partner gave me so that was lucky," he said.
"I'm a diver by trade so I was quite comfortable doing it. Things happen when you are out on a boat and you either get stuck there forever or you have a go yourself," he said.
Passengers were looking at a lengthy delay for another ferry or a bus ride over the hills if the rope had not been sorted out, he said.
From Riverton, Mr Coburn and has been with Black Cat Cruises for a year while living in Diamond Harbour.
Black Cat Cruises Group Operations Manager Paul Milligan said Mr Coburn was a "good typical South Island kiwi bloke".
"Being our busiest day of the year and at peak time he knew we had to keep things going so over the side he went," he said.