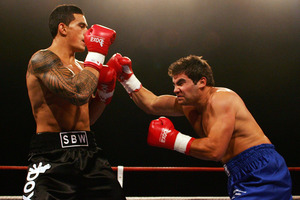 A boxer with a reputation for backstreet fights and a love of drink and women has been charged for doing an indecent act at the Boxing Day Races at Ellerslie.
Gary Gurr, who was knocked out in the ring by Sonny Bill Williams in 2009, appeared in Auckland District Court on December 31 last year charged with theft, resisting police and willfully doing an indecent act at the racecourse. All the charges relate to December 26.
Two other men, Jamie Roberts and Matthew Peters, are jointly charged with theft.
Gurr, a heavyweight boxer from Auckland nicknamed "The Baboon", gained infamy following a blurb on a boxing chat room.
"He's mad as a bag of snakes with the speed, guts and determination of a group one race horse," the posting read.
"Known for his bareknuckle brawls in the back streets of Auckland, I have personally watched him take down many high-profile sports stars in arm wrestles while chatting up the local ladies and sipping away on a whisky, a huge testament to his arm strength."
At the weigh-in before his fight with Williams, Gurr turned the air blue with expletives and gave his opponent a shove in the chest.
"F ... you guys speak a whole bunch of crap. All I've heard from you is talk, talk, talk. Let's get it going," he said.
His aim was to knock out Williams in the first round, "so I can get to the bar".
Williams stopped Gurr 1 minute 22 seconds into the second round.
Gurr, who could not be reached for comment, will appear in court again next month.
- APNZ