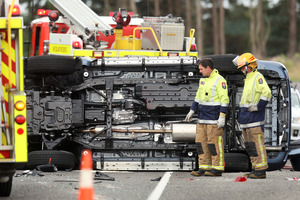 An Indian tourist was injured when the car she was in rolled near Rotorua.
Constable Regan Framp, of the Rotorua police, said the Toyota Prado was travelling eastbound towards Whakatane when the crash happened about 4.15pm yesterday on State Highway 30 at Tikitere.
It appeared the SUV had drifted off the road and the driver had tried to over-correct, rolling the car, he said.
The cause of the crash was unknown.
When The Daily Post arrived at the scene, at the top of Tikitere Hill, the car lay on its side in the westbound lane with glass and debris scattered across the road.
The injured female passenger lay covered by blankets on the side of the road, being comforted by firefighters and other motorists.
An ambulance arrived soon after and took the woman to Rotorua Hospital.
Constable Framp said she suffered a suspected broken leg while the two other occupants, a male and female who were also Indian tourists, were uninjured.
A nearby resident said she ran out of her house when she heard the crash, before calling 111.
"It sounded like a jet going overhead."
The woman had initially been trapped in the vehicle but was pulled out through the windscreen before emergency services arrived.
Traffic was reduced to one lane for at least an hour while the accident site was cleared of debris.
For more articles from this region, go to Rotorua Daily Post