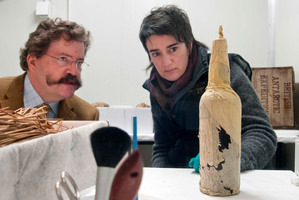 A Kiwi conservation group is toasting a Lotto-sized windfall from the discovery of 100-year-old bottles of whisky buried in Antarctic ice.
The scotch was dug out from under explorer Ernest Shackleton's hut three years ago by a team from the New Zealand Antarctic Heritage Trust.
The crate of Mackinlay's Rare Old Highland Malt was stored at Shackleton's base during his unsuccessful 1907-09 expedition to reach the South Pole.
The Christchurch-based trust allowed three of 10 intact bottles to be flown to Scotland for analysis - and a replica whisky made from the findings went down a treat with tipplers worldwide.
A limited edition issue of the 47 per cent proof spirit netted the Antarctic Heritage Trust about $500,000 after whisky giant Whyte & Mackay donated 5 per cent of sales to the charity.
A further $1 million is expected to be raised from a new version of the $200-a-bottle spirit called The Journey.
"I was delighted when I heard Whyte & Mackay would launch a different product as the first edition went down particularly well," Nigel Watson, the trust's chief executive, said. "Not only will it give more people a chance to taste a part of history, the donation of future sales will greatly assist our efforts to conserve and maintain Shackleton's Antarctic legacy ."
The three original bottles of malt were flown to Scotland in 2011 on a private jet for testing, handcuffed to the wrist of Whyte & Mackay's master blender Richard Paterson.
The original bottles of whisky were returned to New Zealand last month intact, except for one small vial which Paterson keeps close to his heart.
"It is a wonderful reminder of what a historic whisky this is and of the men who, with Shackleton, really suffered in their endeavours to conquer the South Pole," Paterson said.